Vocal chord hemorrhage
Did you know that it is possible to shout loud enough that you could make your vocal chords bleed?
Most famously, singer and songwriter Adele suffered from this, cancelling 2 tours in order to 'prevent permanent damage'.
Our chords are not designed for prolonged shouting.
What's the taste of umami?
Strictly speaking umami has no taste, but the sensation it leaves after the first contact with the food. Pure umami may  be found as monosodium glutamate, but due to the associated health risks, it is not recommended to consume large quantities of this.
Umami-rich foods are: aromatic vinegar, well matured cheese, soy sauce, fish sauce,  tomato sauce, teas and coffees.

Tannins and glutamates are two chemical classes that seem to contribute to the perception of savoury. Saltiness also affects this perception, even in subliminal amounts.
Daltonism colour spectrums. Up: protanopia (red blindness) Middle:normal ; Down: tritanopia(blue blindness)
Believe it or not, about 1 to 8% of the male population has vision defficiencies if arious studies are to be trusted. A consensus is that about 5% have partial (deuteranopia) or total red-green blindness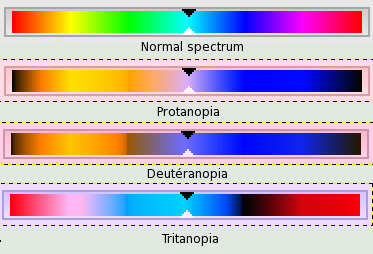 Deuteranopia was originally described by John Dalton in the 19th century, hence the name daltonism.
Far less disabling are trichromatic colour disabilities, where a particular wavelength (colour) is replaced with another one. They are less frequent, and there is a more even distribution among males and females.
The carrier is a recessive gene in an X chromosome, that's why it is less common among females.
Never use online charts and tests as a sole method for diagnosing a chromatic perception disorder.
http://en.wikipedia.org/wiki/Color_blindness
http://www.colblindor.com/2007/04/17/deuteranopia-red-green-color-blindness/#comments
According to various pharmacological studies, St. John's Wort(hypericum perforatum) is useful in treating patients with mild depression. Problem is, the exact mechanism of how it works is not fully understood.
The complex flavonoids hyperforin and hypericin are difficult to reproduce industrially, and the plant seems to have none of the common side effects of regular SSRI and SNRI. Actions: vasodilator, mild antiseptic, cholagogue.
As with all nutritive supplements, note possible interactions. It can be bought in most European countries as tea or extract.
Powerful emotional distress can cause a broken heart condition with symptoms similar to the onset of a heart attack. Fortunately, it is treatable.
Yet more proof that it's all in your head.